This will be one of the busiest weeks of the year, with a flood of economic data, an , an meeting, and a meeting. On top of that, there will be earnings from 3 of the big seven.
The BOJ
The Fed meeting will undoubtedly get all the attention, but the BOJ meeting may have the most significant impact. Expectations for this week's BOJ meeting have been all over the place for the past week or two. At one point, investors thought the BOJ might look to ease back on its yield curve control and lift the 50 bps limit on the 10-year JGB.
That caused the to strengthen, and then rumors were floating there would be no change to YCC at this week's meeting, which caused the Yen to weaken. If the BOJ chooses to lift the cap on the bond, that would not only cause the Yen to strengthen; it would result in the 10-year rate moving higher not just in Japan, but you would probably see global rates push higher, as a result.
Currently, the 10-year JGB is capped at 50bps.
The Fed
While significant uncertainty exists around the BOJ, the market is confident that the Fed will lift rates this week by another 25 bps. The odds for a July hike are now sitting at 96%. The biggest question will then be what the Fed will do next, and my general thought is that the Fed is not done and will have at least one more rate hike to come, if not more, depending on the data.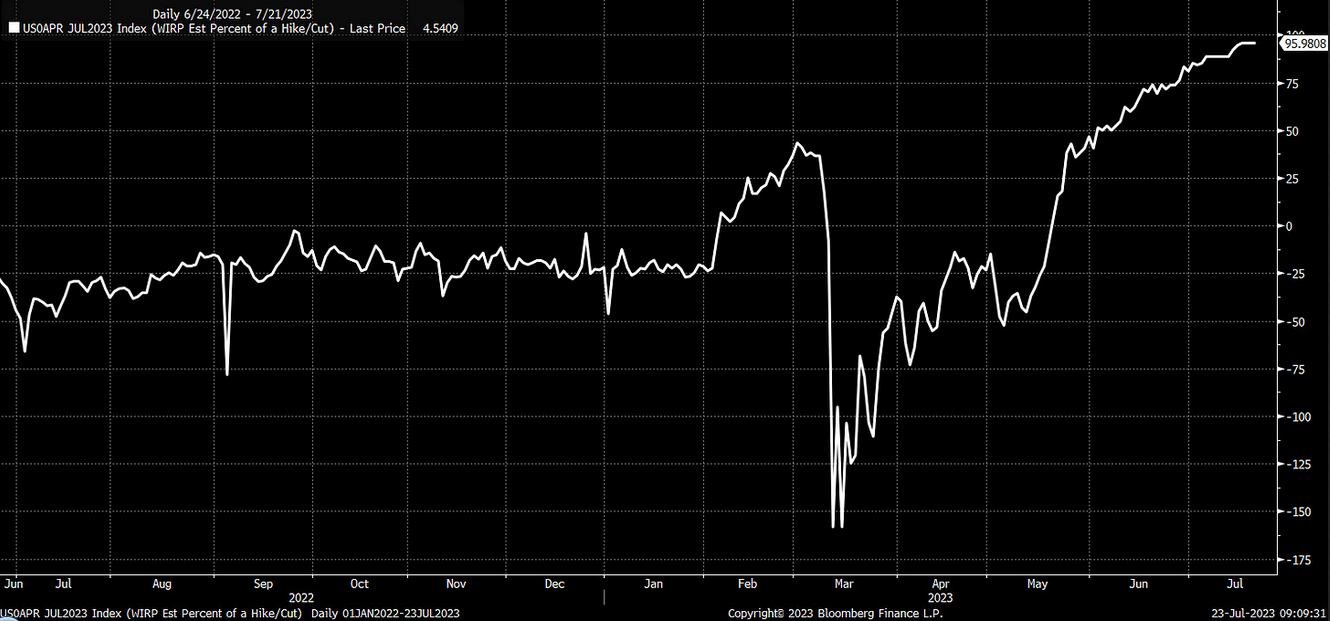 Earnings
Earnings season will take another step up this week, and so far, earnings have been okay. This quarter's sales and earnings surprises have been weaker than in the first quarter. This quarter, sales have surprised by 1.82% vs. 2.58% last quarter, while earnings surprised by 6.2% versus 6.6% last quarter.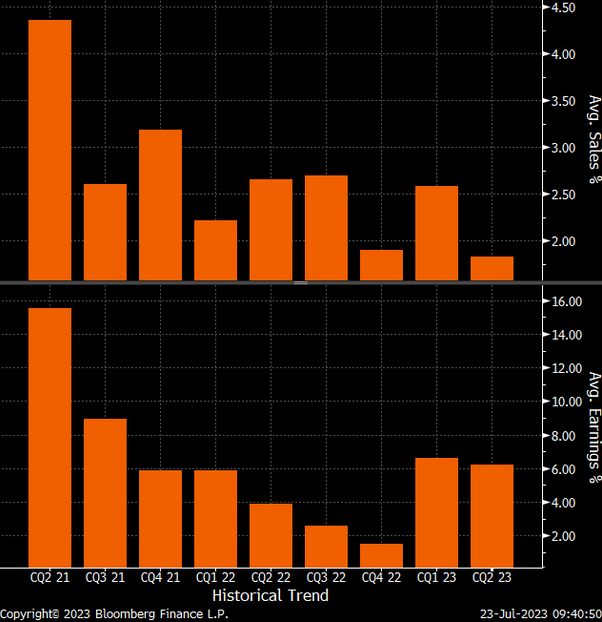 Meanwhile, earnings estimates for 2023 have dropped to about $216 per share, while forecasts for 2024 have fallen to just a bit above $240. To me, the estimates for 2024 continue to appear to be too high. I think we continue to see estimates drop because they are assuming a growth rate of about 11%, and I'm not sure how earnings will grow by 11% next year as higher rates work through and slow the economy.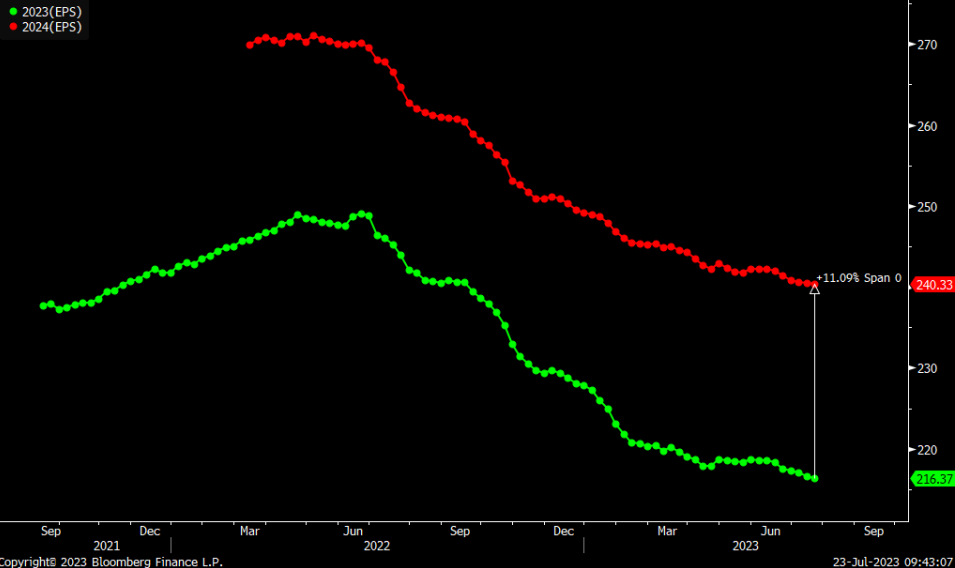 Sales growth is expected to climb by around 4.5% next year, so it seems that for earnings to grow by 11% next year, we will need a combination of large buybacks in the index or a healthy dose of margin expansion. I'm not sure that margins expansion will be able to do that much heavy lifting.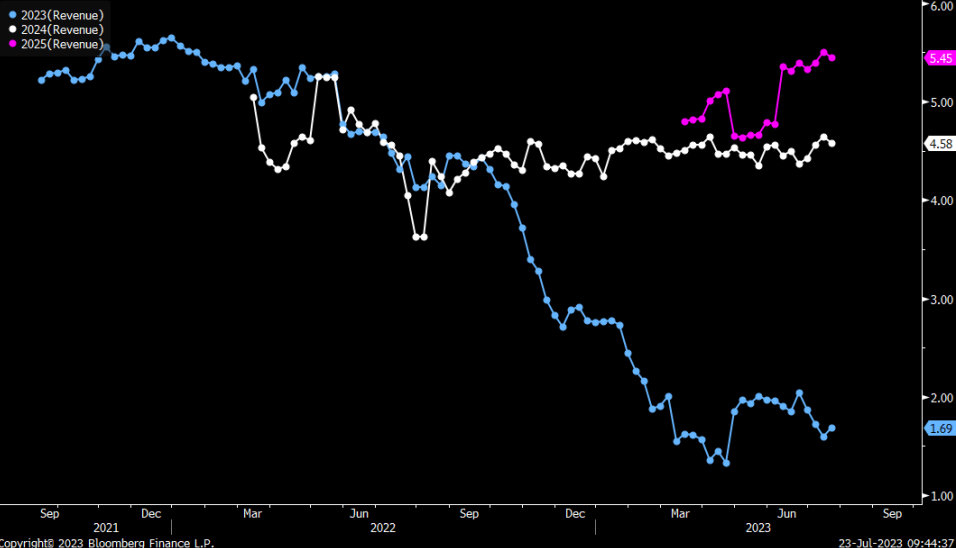 Based on estimates, operating margins next year are expected to rise to 15.4% from 14.7%; it seems like a lot of margin expansion to me.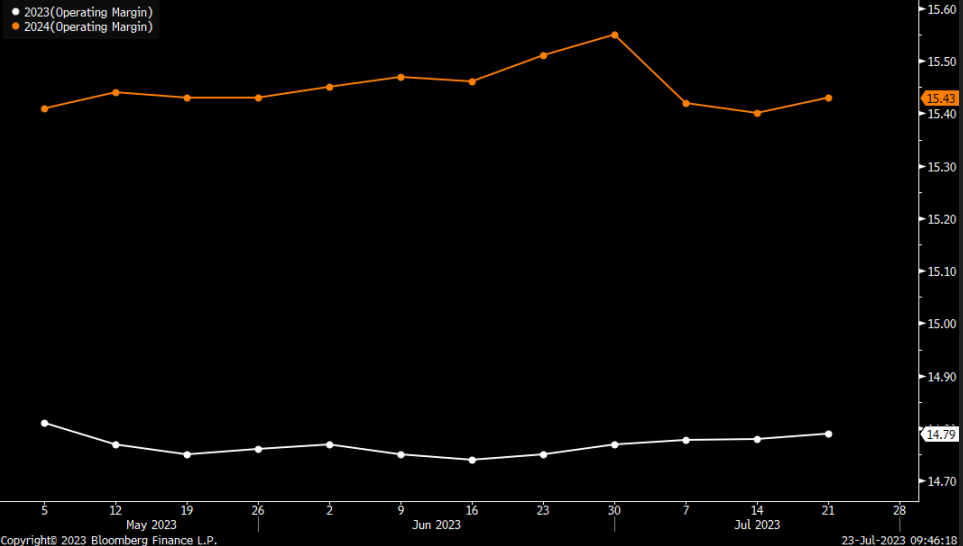 Meta
Meta Platforms (NASDAQ:) will report this week, and clearly, this is a significant contributor to this equity market rally in 2023, and watching the implied volatility is very important. If the demand is to own the upside in Meta following results, it may not matter what the company says because, good or bad, event risk will pass, and implied volatility will fall. This is precisely what was seen in Tesla (NASDAQ:) and Netflix (NASDAQ:) this week
Currently, the 110% moneyness 1-week META options have an IV of 89.15, and the 90% moneyness 1-week meta options have an IV of 89.66. But clearly, the market has been skewed to the calls, as the difference between the 90 and 110% options has been falling. So demand has been to own the calls, but again, if the 110% IV climbs above the 90% IV, that is a big warning sign that the stock probably drops following the results.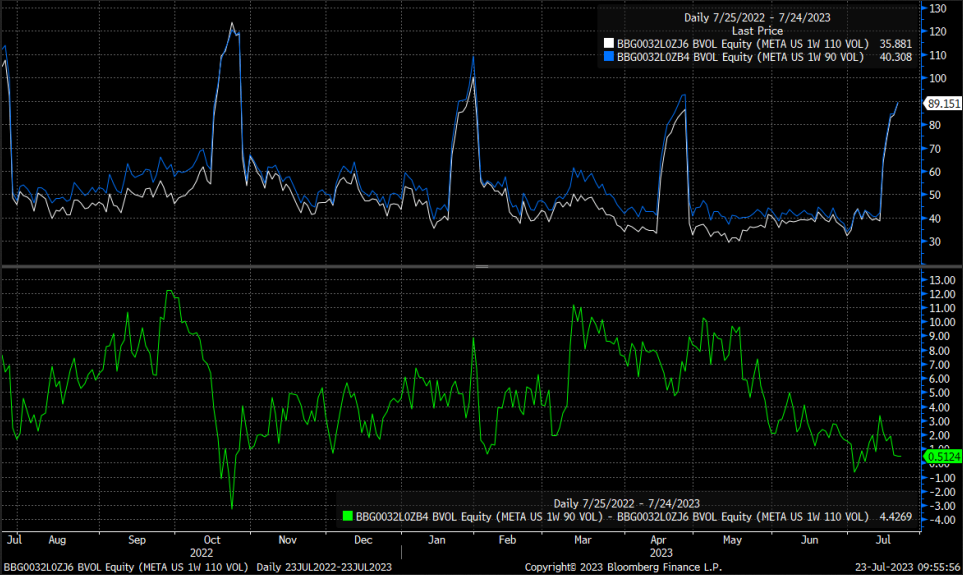 There are also a lot of calls open interest for Meta at $300 and higher, and that could continue to build to start this week, potentially pushing the IV for the calls to higher levels. Once the results are released, IV will drop, and the calls at higher values will immediately begin to lose value, resulting in market makers unwinding hedges and pushing the stock lower.

Meta has been one of those stocks with an unnatural type of advance in a nearly perfect straight line over the past several months. It is pretty uncommon to see a steady climb like the one seen in Meta, and in this case, a drop below $275 would probably mean that the move higher is over.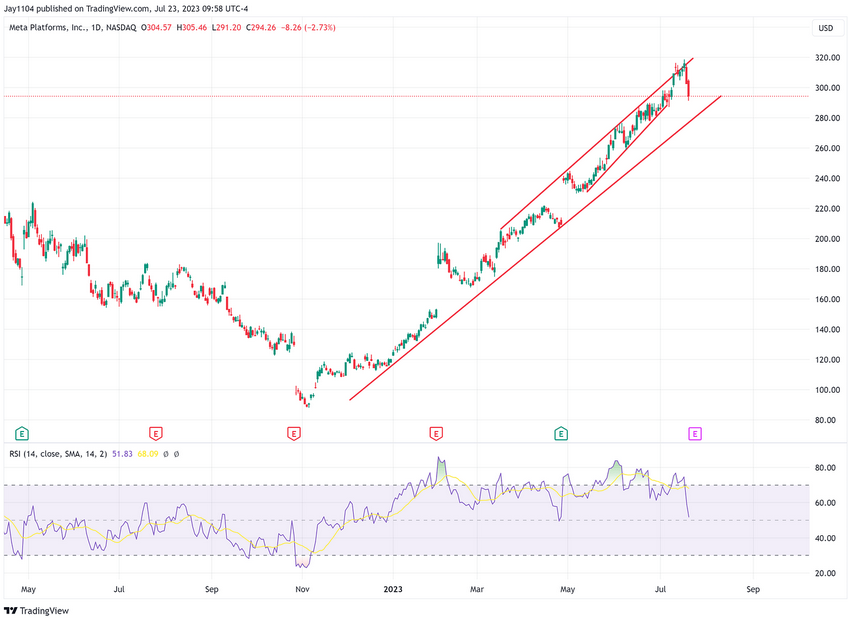 This week's Free YOUTUBE video:
Have a good week.