The modest front yard of Asha Shaiju's home at Charamangalam in Kanjikuzhy grama panchayat is a mélange of greenery. There are hybrid okra plants, the ready-to-harvest pods hanging on the plants; red spinach; brinjal; and chilli. A winner of the Kerala government's Yuvakarshaka, best young woman farmer in the State award, Shaiju, who once dreamed of becoming a teacher, ventured into farming 12 years ago. "It is a dawn to dusk, 365 days a year kind of job, but I am passionate about agriculture. It's rewarding and gives me a lot of satisfaction," says Shaiju, snipping okra. 
Shaiju, now in her mid-30s set up this backyard kitchen garden on 13.75 cents (a little over 500 metres) inspired by the Haritha Samrudhi project of the panchayat in the coastal district of Alappuzha. On another 7.5 acres of land, she grows a host of vegetables and fruits including long beans, tomato, brinjal, cabbage, broccoli, chilli, and papaya, all in an organic way. Her farm, spread across different patches of land, produces 100 kg of vegetables daily during peak periods. 
The small shift 
Shaiju is not the only one scripting a success story in farming in this local body with a population of around 31,000 (9,200 families). According to the local Krishibhavan, there are 7,500 active farmers in Kanjikuzhy who undertake farming on a few cents to several acres of land. The farmers produced 2,200 tonnes of vegetables from 250 hectares in 2021-22. The production increased to 2,500 tonnes in 2022-23. 
"Though the enthusiasm witnessed during the COVID-19 pandemic when people used every available space for farming has dropped a bit, the overall interest in agriculture still remains. While a number of farmers grow their produce adhering to the norms of organic farming, others use good agriculture practices (GAP)," says Janish Rose Jacob, agricultural officer, Krishibhavan, Kanjikuzhy.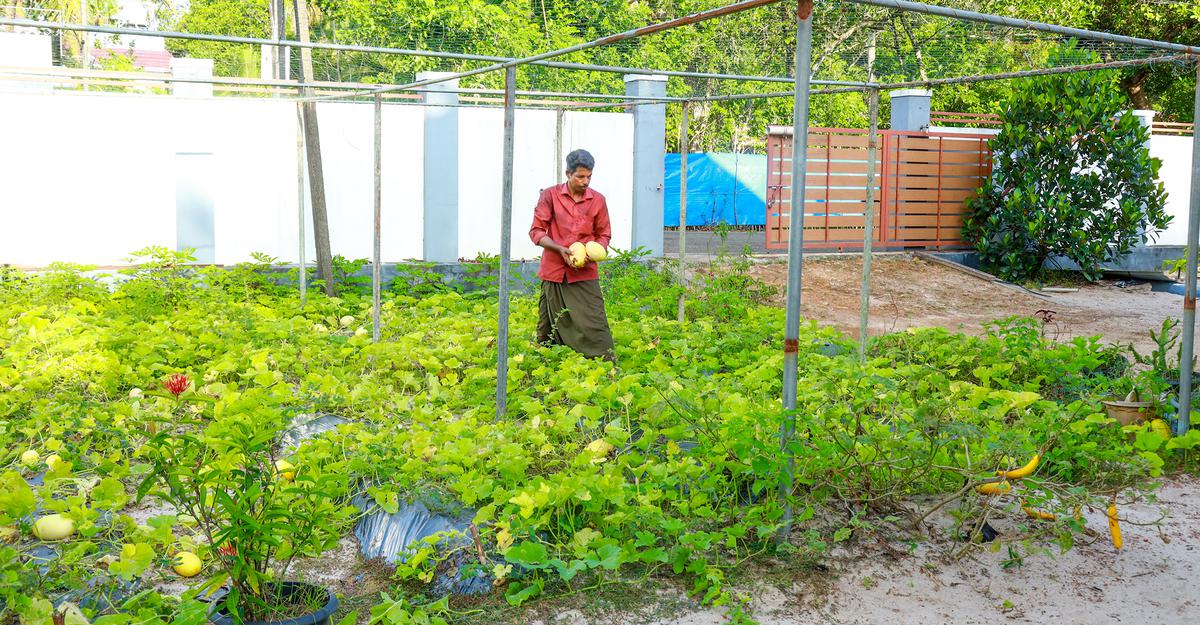 At veteran farmer K.P. Subhakesan's farm, there are about 30 varieties of vegetables and fruits on 20 acres with an eye on the upcoming Onam festival. "I started vegetable farming on two cents with seven varieties of seeds provided by the panchayat under the Janakeeya Pachakari scheme in 1994-95. It increased to 10 cents, 25 cents, and now here I am," says Subhakesan. Part of his farm includes land which he has leased for the purpose. 
Local drive 
It was in 1994-95 the local body, which used to procure vegetables from outside the area, began its journey towards attaining self-sufficiency in vegetable production. "The then panchayat president P.P. Swathanthryam, the driving force behind the organic vegetable revolution in Kanjikuzhy, launched the scheme with the sole purpose of producing chemical-free veggies. The local body distributed seed kits to households to set up kitchen gardens. Slowly villagers made it a habit to grow vegetables for their own use, while some started to grow it in bulk after identifying the potential of the organic produce," says Subhakesan, 50, who relinquished his job in the Kerala State Electricity Board to stick with organic farming. 
Kanjikuzhy's soil is not conducive to farming and it was a barrier in the initial days. The residents, however, turned limitations into opportunities. With no lab-made chemicals allowed, they coaxed their lands into fertility using cow dung, wood ash, and other nature-based ingredients. In the initial days, the local body formed squads to monitor and ensure the continuity of farming. Farmers were given lessons on making organic manure and biopesticides. In the process, large tracts of barren land were converted into agricultural fields. 
Besides cultivating veggies and fruits around the year, residents are engaged in floriculture and paddy farming in Kanjikuzhy. A few like Subhakesan have their own outlets lined up along the National Highway 66, while others sell their produce to vendors and regular customers. People from far and near visiting this village to procure farm fresh veggies and fruits, produced in an organic way, directly from farmers is a common sight.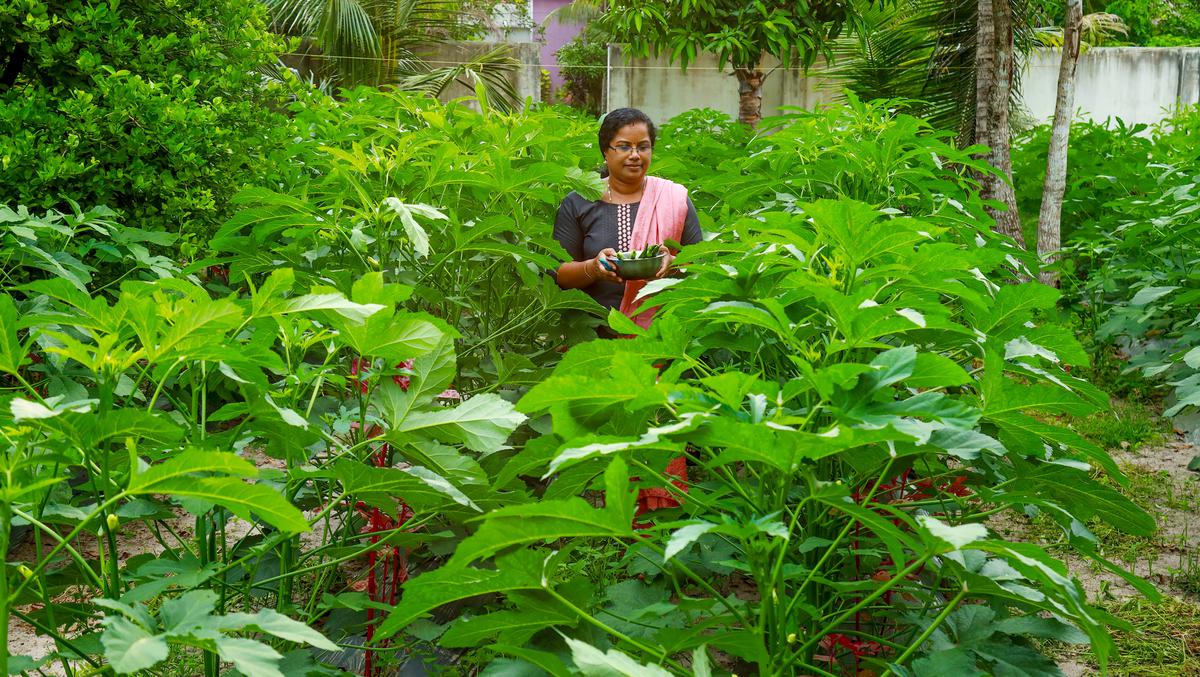 "I visit Kanjikuzhy twice a week to buy these vegetables. They taste better and are healthy," says Xavier from Cherthala. Farmers say their customers include people with cancer and other life-threatening diseases. For these reasons, Kanjikuzhy vegetables always fetch prices higher than the market. 
This year in June, the panchayat distributed 5 lakh vegetable seedlings of five varieties to entire households in 18 wards. "We have set an example in vegetable production and want to continue on the path. Apart from seedlings, farmers are provided technical and other support," says M. Santhoshkumar, vice president, Kanjikuzhy grama panchayat. 
Outward looking 
As Kanjikuzhy continues to make strides, similar trends are visible in many other parts of the State albeit slowly. As per the Economic Review 2022 prepared by the Kerala State Planning Board, vegetable production, which amounted to 10.01 lakh tonnes in 2017-18, increased to 16.01 lakh tonnes in 2021-22. Correspondingly, the area under vegetable cultivation also increased from 69,047 hectares to 1.08 lakh hectares. It notes that organic farming and GAP were popularised in the State in the 13th Five Year Plan period. 
According to an Agriculture department official with direct knowledge of organic cultivation in the State, the area under organic/natural farming, however, is more on paper than on ground. "Six months ago, we collected data on organic/natural farming, covering all kinds of crops, and it stood at 16,000 acres. It should have reached 20,000 acres now. There are Union and State governments-funded projects to increase organic/natural farming in the State. Our aim is to expand the area under natural farming to 82,000 hectares, but there is a long way to go. At the same time, it is a fact that the safe-to-eat cropped area has witnessed a significant increase," the official says. 
Agriculture Minister P. Prasad says that health concerns about pesticide residue in food are driving people to look for chemical-free food and subsequently pushing farmers to adopt safe farming methods. "There is a huge demand for safe food. Subsequently, farmers are shifting to chemical-free agriculture practices. Though the production cost is on the higher side, the farmers engaged in organic farming, natural farming and so on are getting good returns and their numbers are on the rise," Mr. Prasad says. 
While stating that the government is not forcing farmers to shift to new practices, the Minister observes that "farmers move to chemical-free farming when they feel confident of success." The State government, according to him, is making great efforts to promote good agricultural practices. "The proposed organic farming mission will ensure the production of safe food in the State," he says. 
Prasad, however, notes that extreme weather events such as heatwaves and torrential downpours caused by climate change pose the biggest challenge for agricultural production. 
Importing expertise 
Back in Kanjikuzhy, farmers are not afraid to experiment with agriculture. Sujith Swami Nikarthil, who has been farming for more than a decade, has set up a banana farm based on the Israeli model of agriculture. In a crowded piece of land, the banana plants in the 'shooting' phase look healthy and ready for a leap aided by plenty of sunlight and intermittent showers. 
Nikarthil, a native of Kanjikuzhy, was part of a 27-member team that toured Israel under an Agriculture department programme to explore modern farming techniques earlier this year. He is growing 1,200 tissue culture banana plants of five varieties: ethan (plantain banana), njalipoovan (finger banana), chenkathali (red banana), and two robustas, on 1.2 acres of land in the nearby Cherthala South grama panchayat. 
Trying out the techniques he picked up from farms in Israel, Nikarthil has planted three saplings in a pit. "In Kerala, we do banana farming on a one-pit-one-plant basis. That way I could only plant 800 saplings in this plot. By practising high-density farming, like in Israel, I was able to plant 400 more saplings," says Nikarthil. 
He applies organic manure and micronutrients to banana plants. For additional income, Nikarthil has planted cucumber and spinach on the plot. "In Israel, farmers grow a single crop on a plot. I planted cucumber and spinach to ensure the experiment turns out to be profitable. The banana cultivation is expected to cost around ₹2 lakh. However, I could earn ₹1.5 lakh through the sale of cucumbers ahead of the banana harvest," he says. 
He has installed an automatic drip irrigation facility on the land, which prevents the wastage of water. 
Fellow farmer Subhakesan first made headlines when he developed a hybrid variety of long beans by cross-breeding the vellayani local and lima bean varieties. With a length of 90 cm, it became popular as 'Kanjikuzhy payar'. Recently he developed 'madhura vellari' (sweet cucumber), a hybrid of yellow watermelon and kani vellari (golden cucumber). 
The veteran farmer developed the new variety through experiments that lasted 14 months. "It will flower in 22 days and attain full growth (700 gram) in 45 days. It is suitable for juice and salad," he says. 
Even as the State strives to increase vegetable production and promote organic farming, Kanjikuzhy farmers echo the concerns raised by the Agriculture Minister, on the long-term sustainability of vegetable farming due to climate change. 
Shaiju, for the first time, as a grower, experienced water scarcity during the recent summer months. Philip K. Chacko, an enterprising young farmer, shifted farming from Kanjikuzhy to Palakkad after two inundations between January and May caused by unseasonal showers destroyed his crops in entirety in 2021. "I was practising the precision farming method and to make profits at least two rounds of cultivation should be done. In Kanjikuzhy, I was growing crops in fields vulnerable to waterlogging. The change in rainfall patterns has proved costly," says Chacko. 
Despite the threat of extreme weather conditions, farmers in Kanjikuzhy are prepping up for Onam. Shaiju plans to cultivate a "special vegetable crop" for the festival. She is keeping it a secret. "Due to the intense competition among us, the fellow farmers, I will not reveal my plans," she says.