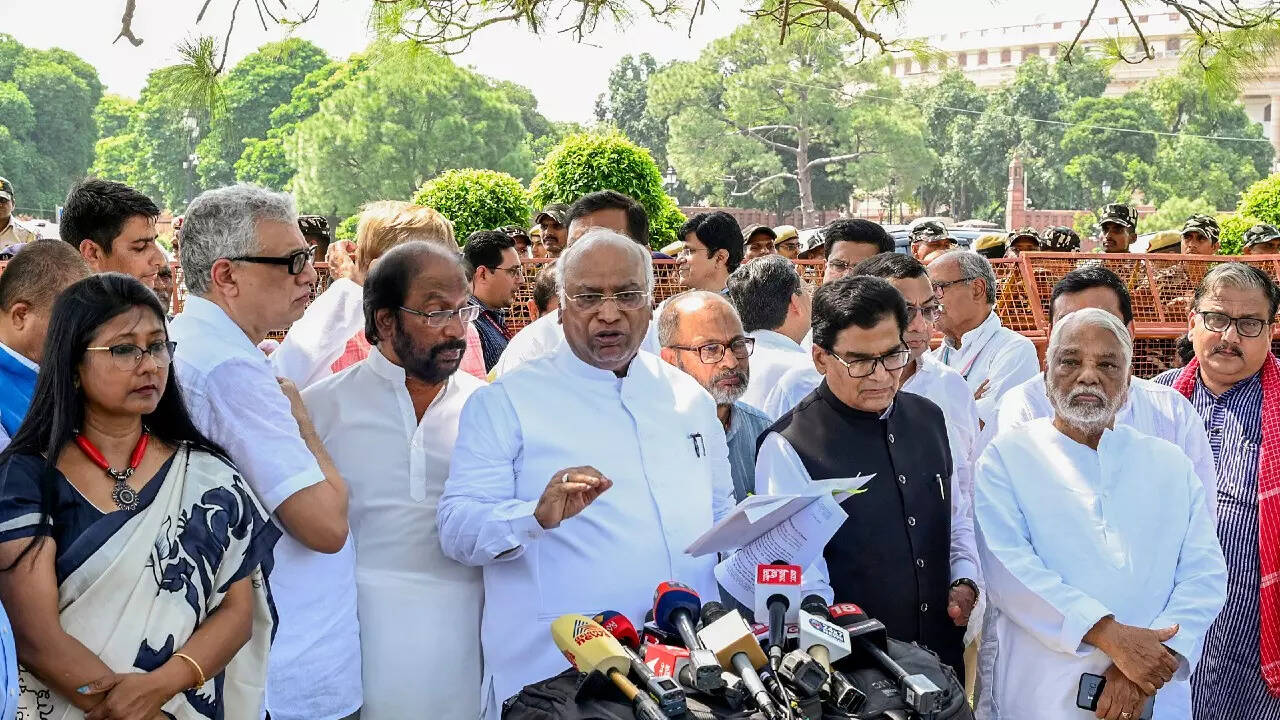 NEW DELHI: Several leaders of the Congress and the Left on Tuesday blamed the
BJP
for spreading hatred in the society and said this has resulted in the communal clashes being witnessed in
Haryana
and the firing by an RPF constable in a Maharashtra-bound train in which four people were killed on Monday.
In a tweet in Hindi, Congress president and leader of opposition in the Rajya Sabha Mallikarjun Kharge said the violence being spread in the name of religion in 21st century India is a blow to the foundation of our civilisation of treating all religions with equal respect. This cannot be tolerated under any circumstances, he said.
The Congress leader said, "What is going on in some parts of Haryana or what the RPF constable did is like inflicting deep wounds on the chest of Mother India. These days, the trend of disintegration of the society's fabric that we are seeing is the result of spreading hatred for the greed of power."
Kharge noted that adulterating poison of malice in the public and making them fight with each other is like making fun of our Constitution. Such incidents raise serious questions on the weak law and order situation and our weakening constitutional institutions. If we do not unite and raise our voice against these divisive elements today, then the coming generations will have to bear its consequences, he said.
Appealing to all on behalf of the Congress party to maintain peace, he demanded strictest punishment for the culprits. "Quit hatred, unite India!" he added.
Former Congress MP Rahul Gandhi named the BJP and held it responsible for the incidents of violence. In a tweet in Hindi, he said, "The BJP, the media and the forces standing with them have spread the kerosene of hatred across the country. Only love can douse this fire in the country."
Congress general secretary in-charge of organisation K C Venugopal, in a tweet, said, "Manipur has been burnt to ashes. Haryana is now up in flames. A gunman kills his fellow citizens in the name of religion, hailing his ideological gurus. The BJP-RSS's nafrat ka bazaar (market of hatred) is running in full steam. But worry not, love will soon defeat hatred. Bharat Jodo (Unite India) will succeed."
The Left parties also alleged that the incident of an RPF constable killing his senior and three passengers on board a train in Maharashtra was "a direct result of the hate speeches" made by those in power.
RPF constable Chetan Singh (33) allegedly shot dead his senior – Assistant Sub-Inspector Tikaram Meena – and three passengers – Abdul Kadarbhai Mohammed Hussain Bhanpurwala (58), Asgar Abbas Sheikh (48) and Syed S (43) – near Palghar station on the outskirts of Mumbai.
The Railway Board has set up a five-member committee to conduct a "comprehensive inquiry" into the incident which took place on Monday on the Jaipur-Mumbai Central Express train.
A court in Mumbai on Tuesday remanded the Railway Protection Force (RPF) constable in the custody of Government Railway Police till August 7.
In a statement on Tuesday, the CPM said the incident should not be seen as the actions of a disturbed mind as is the initial explanation by the authorities.
"All the passengers killed were Muslims. The constable went from one coach to another and deliberately targeted Muslims. This is a direct result of the hate speeches being made day in and day out by those in power, demonising the Muslim community and using every abusive word in the dictionary of communalism against them.
"A video which is yet to be authenticated shows that the man…was echoing the language used by BJP leaders," the CPM claimed.
What is more alarming is that it clearly shows that such "communal thinking is affecting those officially mandated to provide security," the party said.
"This condemnable incident is a wake-up call to India that the toxic agenda of the Hindutva forces is leading the country into a deep abyss," it said.
The CPI said the incident "reflects what RSS has done to our society."
"This great land of Buddha and Gandhi is saturated with hate today. Menace of hate is bulldozing everything our freedom fighters fought for. Hate has to be defeated by harmony if our republic is to survive," the CPI said in a statement.
Meanwhile, the Jamiat Ulama-i-Hind issued a statement condemning the incident.
In a letter to Union home minister Amit Shah, its president Maulana Mahmood Asa'd Madani said it is not an isolated action but a continuation of a hate campaign that has been perpetuated for years.
"This is an alarming situation where those who openly propagate violence against Muslims in Dharam Sansads and slogans consider themselves above the law, with no concrete action taken against them," he said, citing instances of hate slogans being chanted and TV programmes promoting divisive ideas.
(With agency inputs)